ABWM to Exhibit at WoundCon Spring 2022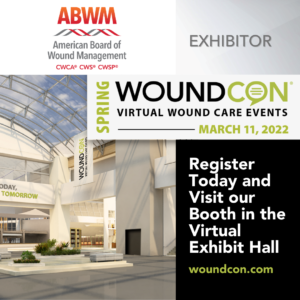 ABWM will be exhibiting virtually at WoundCon Spring 2022. Registration is now open and is FREE to health care professionals like you. Chat with staff in real time in our booth, find lots of great certification resources, and attend our live session for tips on how to apply for the CWCA®, CWS® and CWSP® certifications.
MARCH 11, 2022
7:00AM – 7:15PM EST 
This Spring WoundCon is offering 16 new CME/CE wound care sessions, new speakers, and new educational sessions, demos and video meetings in the exhibit hall to help you expand your education on the latest in evidence-based wound care.
In addition to the live conference day on March 11, WoundCon Spring will be available on-demand from March 12 – March 25.
CLICK HERE to register for this global wound care conference and expo.